Workfront
Connect, collaborate, and simplify workflows using Adobe Workfront to launch campaigns and deliver personalized experiences at scale.
Adobe Workfront is a work management platform for enterprises looking to strategically prioritize, assign, and complete projects with speed, at any scale. With its central dashboard, you can quickly launch projects by seeing available resources and using templates and automations to assign tasks. Real-time updates let you see how projects are going and how new work requests will affect resourcing, timelines, and KPIs. And because Workfront keeps everyone aligned on your organization's business goals, you can prioritize the work that will reach those outcomes, not distract from your mission. Workfront lets you deliver on time, on budget, at scale.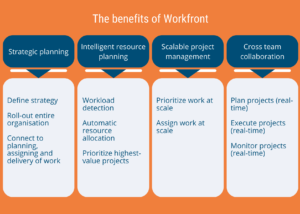 Highlights
Work automation: Connect your business-critical systems and create custom workflows.

Goal alignment: Connect strategy, goals, and work.

Scenario planning: Responsive planning that continuously updates scenarios based on feedback.

Workflow management: From strategy to delivery, Workfront connects and streamlines your end-to-end workflow. 

Proofing & approvals: Online proofing tools give stakeholders, creative teams, and project managers one easy place to review and approve work.

 

Agile work management: Implement agile work management — or any other work methodologies — directly within Workfront's easy-to-use dashboards.

Reporting & dashboards: Keep everyone informed in real-time with centralized reporting and dashboards that provides multiple views and filters.

Enterprise security: The industry's highest security and privacy tools are built into Workfront project management software.
Unique Selling Points
Integration with the Adobe family

 

Intelligent resource management

 

End-to-End Work Management

 

Powerful Reporting and Analytics

 

Security and Compliance

 

Mobile App Support

 

Extensive Partner Ecosystem

 
Challenges
No monitoring and overview of progress and completion of project tasks, which causes inefficiency, delays and frustration in projects.

 

No way of managing the variety of stakeholders (inc. external & internal partners with limited involvement) to avoid unnecessary overhead (e.g. project management calls) and still be able to track progress, which causes inefficiency in budgeting and cost effectiveness

 

No guidelines and processes in place (Streamline processes and spot issues early on and getting grip / risk management like resource planning, delays, running out of budget (limit risks))

 

Getting things done is a challenge, due to distraction, because strategy gets disconnected from execution.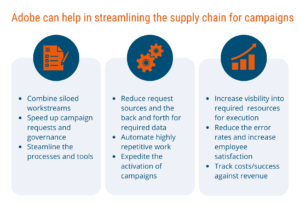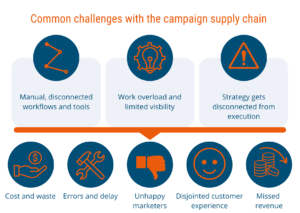 Integrations
Integration with Adobe:

Being an Adobe product, Workfront integrates seamlessly with Adobe Creative Cloud applications like Photoshop, Illustrator, and InDesign, but also other Adobe products like Marketo. This integration allows creative teams to access their assets directly from Adobe applications and streamline the content creation process.

 

Intelligent Resource Management:

Workfront's resource management tools don't just let you see who is working on what — they can help you forecast when team members will free up for new assignments or if there are any resource gaps that need to be filled.

 

End-to-End Work Management:

Workfront offers a comprehensive solution that covers both project management and digital asset management. It combines project planning, task tracking, collaboration, and DAM functionalities in one platform, providing a holistic approach to managing marketing and creative projects.

 

Powerful Reporting and Analytics:

Workfront offers extensive reporting and analytics capabilities, providing valuable insights into project performance, resource utilization, and team productivity. These insights help organizations make data-driven decisions and optimize their work processes.

 

Security and Compliance:

As part of the Adobe suite, Workfront prioritizes data security and compliance with industry standards and regulations, providing peace of mind for organizations working with sensitive data and assets.

 

Mobile App Support:

Workfront offers mobile apps for iOS and Android, allowing teams to access and manage their work on the go, enhancing productivity and responsiveness.

 

Extensive Partner Ecosystem:

Workfront has a strong network of partners, including consulting, technology, and implementation partners, which can provide additional expertise and support for organizations during the onboarding and adoption process.