How to Create Social Media Persona (Examples)
A social media approach starts with formulation persona of the target audience. Interesting literature to read is "Marketing in the groundswell" by Josh Bernhoff (Forrester Research) & Charlene Li. The new book of Josh Bernhoff, "Empowered" is recommended. After extensive reseach online I couldn't wait to start with the persona. I started looking for examples (2009/2010), but what I found was not specifically for social media. So after many interviews I created a scheme with persona properties. The scheme might help you with creating your own one. Try to find the persona properties that are the most relevant for your business.
Example scheme, Dutch (click to download in PDF)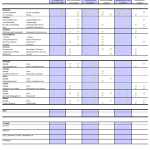 Even though a scheme is a great way to "configure" your persona it's not a great format the share or present to your company. After adding some personality to a persona you could create a moodboard. It might be important to validate the persona your have created in real life!
Example moodboard, Dutch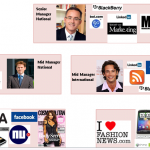 Some extra resource suggestions for you
by our content recommendation engine